Verminator Studios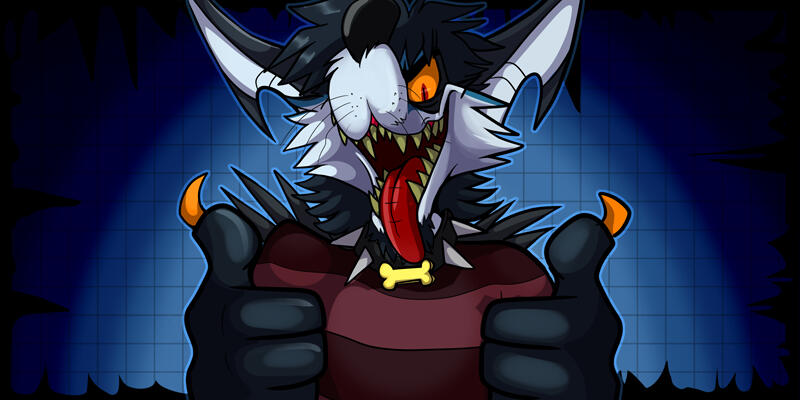 Name's Seth! Known online as Seth Vermin, I'm a 30 year old guy from Southern California and livin' the dream.I specialize in cartoony illustration, especially character art. A lot of this has a tendency to fall into the "furry" category, but not all of it!Here are the various places online where you can find me.
---
Commissions
Please read my Terms of Service, by commissioning me you are agreeing to it.Base prices are below, they should give you an idea of the range my artwork will cost.You may be charged higher for more complex work, depending on your situation.I take payments through PayPal, Ko-Fi, or CashApp. No checks or money orders.If you would like to buy a commission, please contact me through any of these links!
Icons - 45.00
The similarities in expression are caused by people frequently asking for the same one. I have no restrictions or difficulty drawing other facial expressions. Feel free to ask for things other than smug or grinning if you want that!
Busts - 50.00
Waist Ups - 60.00
Fullbodies - 75.00
Terms of Service
Last updated on March 1, 2023
Introduction
The Verminator Studios Terms of Service is mandatory and non-negotiable. Purchasing a commission counts as an implied-in-fact contract, and failing to adhere to the terms of service will result in termination of said contract.All commissioners must be 18 years of age or over. Misrepresenting one's age in order to get a commission will result in termination of the commission and permanent blacklisting.
ETA, Updates, Content and Edits
The average turnaround time is two weeks to a month unless otherwise stated.Messages inquiring about commission status before the two week mark will be disregarded.Harassing the artist for an update may result in the termination of the contract and, the commissioner will be compensated a percentage of the original payment, based on how much work has already been done.The artist deletes the PSD after the commissioner approves the image. No further edits will be made after this. If the commissioner never responds to the final product, the artist will consider it complete after 48 hours and will not make changes to it.UpdatesThe artist has public queues for Trello for checking on commission status. WIP screenshots may be requested, no more than twice. They will be exchanged privately, not posted on Trello.Please understand that things will be missing from WIPs, some things just aren't added yet. Try not to be annoying about this.The artist will not provide WIPs for "done in 24 hour" commissions.If the commissioner goes quiet but is still clearly active online, the artist will finish the image without any further approval as to not waste time.ContentIt is the commissioner's responsibility to provide an accurate concept for the image they are purchasing.If the commissioner opts for "artistic freedom", they willingly forfeit their rights to ask for content changes.The commissioner should not purchase artwork from Verminator Studios if they do not like the style provided in examples.Verminator Studios generally has a very exaggerated cartoony art style, and will not "tone down" exaggerations at the commissioner's request.The artist will not draw something "the way this other artist drew it". If the commissioner desires a "diet" version of another artist's work, they should seek art elsewhere.Verminator Studios will not draw in another artist's art style, period.The commissioner is required to provide accurate, clear, and up-to-date references. It does not matter if the artist has worked with the commissioner before. DO NOT ASSUME the artist knows your character. Link references EVERY TIME. THEY DO NOT HAVE TO BE REFERENCE SHEETS, just accurate images. If references are not up-to-date, please notify the artist what's different CLEARLY and AHEAD OF TIME, preferably before the commission is started.If using a text description, it should be to the point, and not lengthy. Character backstory is not needed.
Verminator Studios may reject the commission if the description is overly confusing or complicated.Verminator Studios will and won't draw the following content: https://www.furaffinity.net/journal/9372112Verminator Studios doesn't usually work at a resolution higher than 2000 x 2000 px. If the commissioner wants a higher resolution than this, they must note this before work is started.The image then gets resized further to be uploaded to various sites, and that's often the highest res there is unless otherwise asked for.EditsThe Trello queue, as of March 2023, no longer will show WIP screenshots. WIPs must be requested ahead of time.The commissioner must specify if they want to have a sketch linked before inking begins.As stated above, if the commissioner opts for "artistic freedom", they willingly forfeit their rights to ask for content changes.The commissioner must be VERY clear with what they want.The artist refuses to do "experimenting", either ask for something or don't.This means no "hmm lets try this type of background/color/marking/whatever... nope lets try this one." ad nauseam. No free labor.Pedantic, unhelpful, confusing or nitpick edit requests will not be made.Examples of the latter include things such as "my character has five fingers", "the wrist looks weird", "move this leg a little to the left and make it bend this way", "make him smug but angry at the same time". ESPECIALLY "this looks off", that has no meaning and isn't something to work with.The commissioner is not entitled to a massive change halfway because they didn't like their previous idea. If the commissioner wants something entirely different after the picture is past the sketching stage, they must pay to get a new one.Verminator Studios will not redo anything for free.The artist only cares about the commissioner's opinion. Therefore, the artist takes no interest or demands from the commissioner's friend(s), partner(s), family member(s), etc. Only those that pay get a say.Furthermore, pose changes can only really be made prior to the inking stage.Changes of detail, markings, piercings, et cetera, must be paid for. Edits are still labor, and the commissioner is not entitled to that for free.
Payments and Refunds
Payment is only accepted through PayPal, CashApp, or Stripe.Money is done through invoices only, unless otherwise stated.If the commissioner disappears after 48 hours without paying the invoice or responding to messages, the transaction will be canceled and their slot will be open for taking again.
Payment is needed upfront, work will not be started without it.If the commissioner intends to send an eCheck, they must notify this ahead of time.eChecks incur a 20% NON-NEGOTIABLE convenience charge and work will not be started until the payment actually deposits.
Convenience charge is non-negotiable. Using Paypal or CashApp for DIRECT payments is the only method which will not incur convenience charge.If the commissioner refuses to comply, doesn't accept the fee, and sends an eCheck anyway, they will be refunded and blacklisted.
Payment plans can be negotiated, and are encouraged over eChecks.
An initial payment will have to be made, and the commission will be worked on to the extent of the value of the initial payment.It will not be continued until another payment is made, and it will not be completed until the full price of the commission has been paid for.
Failure to pay within the agreed upon time will result in a termination of the commission.Chargebacks are NEVER necessary and have NO excuse. Friendly fraud is illegal.Filing a chargeback over uncompleted work without contacting Verminator Studios first will result in a permanent blacklist, will be disputed, and will possibly result in legal action against the commissioner.Filing a chargeback after the commission is completed to scam Verminator Studios will result in legal action to the full extent of the law.
Accidental chargebacks made by the commissioner's bank or otherwise will still be disputed over PayPal.Deceitfully claiming the chargeback was an accident with evidence to the contrary will result in legal action.Refunds will not be granted because the commissioner is broke.Artwork is a luxury, and it is not the responsibility of Verminator Studios to pay for the commissioner's financial negligence if they choose to buy artwork they couldn't reasonably afford.Refunds will not be granted if the commissioner decides that the artwork, art style, or anything therein does not fit the idea they had in mind.Verminator Studios is not responsible for the commissioner buying artwork that is in a style they do not like.As stated earlier, "It is the commissioner's responsibility to provide an accurate concept for the image they are purchasing."
This means that if the artist has started and/or made progress on the commissioned piece, and the commissioner isn't happy with how it is coming out, the commissioner is NOT entitled to a complete refund. Labor is not free.A partial refund may be granted, with the value of the work already done deducted from the total amount.It would be wiser, as previously stated, to not waste the artist's time nor the commissioner's time. The commissioner is expected to look at examples of Verminator Studios' previous work. They should not invest money in something they do not want.
Character Ownership + Gifts
By commissioning Verminator Studios, the commissioner agrees that the character(s) they are purchasing art of are either theirs, or that they have consent to purchase art of said characters.
The commissioner also must be certain they would theoretically have full consent if they decide to commission a surprise for someone.
VERMINATOR STUDIOS TAKES NO RESPONSIBILITY FOR THE COMMISSIONER'S ACTIONS IF THEY DECIDE TO NEGLECT THIS.
If the artist suspects foul play, he will deny the commission entirely and blacklist the commissioner.
If the artist doesn't know and goes through with the commission, the character owner is more than welcome to ask for a removal of the artwork from the internet.
Use, Conduct, and Conclusion
UseCommissions may be posted on social media with credit to Verminator Studios, Seth Vermin, or my username on the site you are on.You may not use my artwork for AI training unless you acquire my explicit permission.There is a $5 surcharge if the commissioner wishes for the artist to not post the finished product online. This is due to inconvenience to the artist, and depriving his portfolio of recent finished work.The commissioner may NOT sell prints of the art they have purchased without permission.Royalties are expected and a contract must be worked out.Adopted characters may not be sold for a price higher than what you bought them for.Images may be cropped and resized as the commissioner pleases.The commissioner may not pay someone else to make edits to artwork purchases from Verminator Studios without consent.This includes paying another artist to finish a sketch.Very likely, Verminator Studios will grant permission to do this, but it is expected of the commissioner to ask first.By purchasing a commission you agree to it possibly being featured in advertisements and promos for other offers from Verminator Studios
The commissioner is more than welcome to opt out of this for any reason.The commissioner is also more than welcome to request their artwork not be posted as well.ConductCommissioning Verminator Studios is not a donation or favor, it is a business transaction and the commissioner is not entitled to any personal relationship with the artist.This includes but is not limited to: friendship, roleplay, sexual discussion, sex, romance, or any other connection to the purchaser.
It should also go without saying that just because the artist drew something for you does not mean he is interested in the content.Being respectful goes a long way. Disrespectful behavior will not be tolerated.Barking orders when changes are desired, cussing out the artist, insulting the artist's style or any other disrespectful behavior will result in a termination of the contract as well as a blacklisting.All interactions are documented and saved, and the artist will take no issue in exhibiting the commissioner's aggressive behavior publicly once the contract is terminated.The artist is not a vending machine any more than the commissioner is a talking wallet or credit card.The commissioner ought to speak the way they prefer to be spoken to.
Please try to be polite! "Please" and "thank you" go a long way!This last point isn't a contractual requirement, however, it is deeply appreciated to at least acknowledge the receipt of a commission once you have gotten it.The artist is a human being who is performing a skilled labor especially for you. If you really can't even bring yourself to show some degree of gratitude and decide to ghost the artist instead, know that your silence speaks volumes.Conclusion
In conclusion, by agreeing to these terms and conditions, the commissioner agrees to an implied-in-fact contract.If the commissioner breaches this contract, they are subject to the consequences of doing so.
My existence as an artist is brought to you thanks to my Patrons and monthly Ko-Fi supporters. I would like to thank the following people:Curus Keel
Fingerbit
FoxenXI
Lowen-Mothbat
Panzermanathod
Arthur D. Tayra
The Curious Curator
CW Greyfox + Daemonclaws
Dogwater
EktoHunter
Finnfann
Heather
Mesa-Gordeau
Muskwalker
Ringune
Tarsily
Tokky
ThatTechCoyote
SheppinDoggoIf you would like to support me, you can do so on Patreon or Ko-Fi. Even $1/month both helps me and gives you access to tons of content as well as a chance at free art.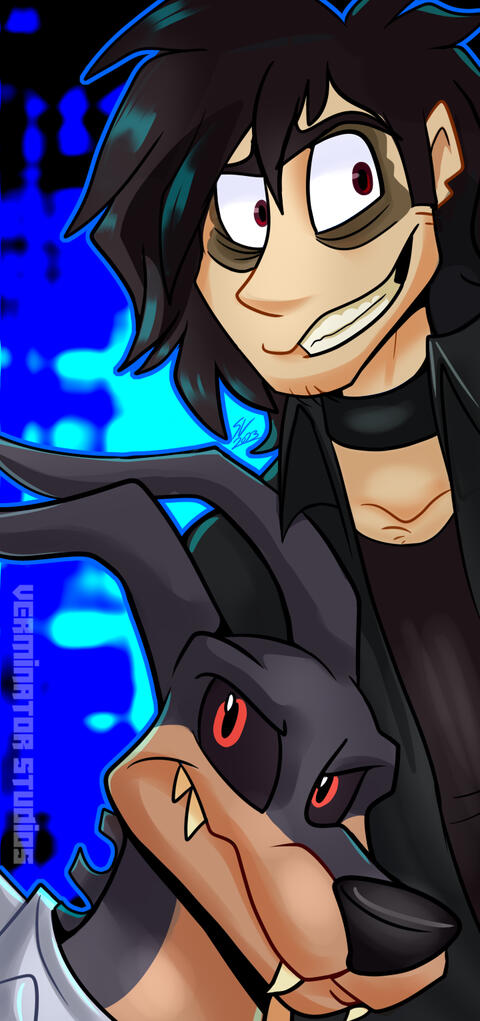 I'm a contributor to the webcomic Data and Downloads!Data and Downloads is a webcomic based off of a homebrew Digimon themed Dungeons and Dragons campaign DMed by the wonderful Ectodrool! The main three characters represent the player characters: Kells (Dirgeserval), Adrian (Ectodrool) and Blaine (VermStudio, that's me)!Read Data and Downloads here!